We are excited to announce the following Blockchain projects will be
​featured in the launch edition of Crypto Millionaire.


Launching on Kickstarter
The Race is on...
The race is on! Be the first player to amass one million in Crypto!

Choose your Cryptocurrency wisely as you attempt to scoop a massive windfall when the market rises. And at the right time, make a huge profit by buying and selling crypto via the bitcoin profit trading platform. This platform uses an AI algorithm to identify trading opportunities in the crypto market, and you can make good profits.

​This is your opportunity to prove you have what it takes to be a Crypto Millionaire in this exciting new fun-filled family game of strategy, luck and high stakes risk taking!
Setup and start playing in minutes
Easy to set up and quick to learn, players young and old soon get to experience the roller coaster that makes up the exciting world of Cryptocurrency.

Do I need to be a Crypto geek to play?
Crypto geeks totally welcome, but you don't have to be, in fact, ​you don't need to know anything about Cryptocurrency to play and everything is explained in the user guide.

Who can play?
​Play with family or play with friends. A game can be enjoyed by players as young as 6 as well as being perfect for an adult games night.

How long does a game last?
An average game for four players takes about an hour and a half.


Crafted For Your Enjoyment
Our passion for board games and Cryptocurrency combined
​to create this super fun, educational and exciting new board game.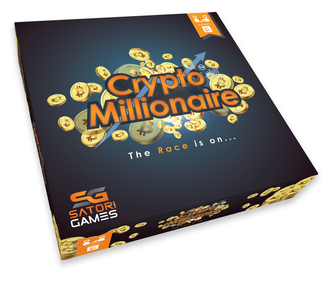 Game Cards
Crypto Cards
You can choose from 16 different Crypto currencies to build your portfolio, the more you have, the greater the chances of scooping a windfall. Traders can choose altcoins to expand their portfolios. Many altcoins are available in the crypto market. Choose the best altcoins that have enough potential to fetch you profits.

STO Cards

This is your opportunity to participate in a "Security Token Offering" Will you win BIG or lose everything?

Wild Cards

The various Wild cards really "spice" up the game, you'll just have to wait till you play to see how
Market Rising Cards

It's time to profit from your Crypto portfolio... but only if you own it!

​

Events & Lessons Cards

The game is full of events and lessons. Events boost your wealth but the harsh lessons from the Crypto world will cost you!

Seasoned Investor Cards

Only the best get to invest in the high stakes Seasoned Investor ICO opportunities. Will you be one of them?
Launching on Kickstarter Soon...
​ Join our exclusive VIP CLUB and get access to
​ the ​secret discounted first day of launch
​CLICK HERE